Welcome to Angeli's House !
"The passion for tourist reception and the enchantment of tradition"

We are a family that rent our apartments located inside the old Rome's Historical center.
Our apartments will place you within walking distance of Rome's most incredible sites. Whether visiting Rome on business or holiday, our properties will allow you to visit the eternal city with the comfort of your own furnished residence.

Rates are free of any "agency commissions/fees" because we are quite the owners of the properties we rent.

All our apartments are really located INSIDE the Rome Historical district. All maior sites are located at very easy walking distance.

We really want to help you make of your stay in Rome a memory that you'll treasure forever.

If you need any further detail....do not hesitate to contact us.
Best Wishes and ..... Arrivederci a Roma !!
The "Trastevere Penthouse A" was recently completely restored with very high quality furnishings.

Plasma TV HD in each bedroom (#2)
Satellite (1st bedroom only)
FREE internet (wifi and cable).
A/C (new inverter/eco & friendly machines) and independent heating in each room.
Laundry machine
Dish washer machine
Authentic Wood "ancient" parquet ("Olmo" wood", '300 y.o.)
Luxury Glass Mosaic in bathrooms
Safe box
Hair dryers (#2)
Low allergic orthopedic mattresses
Iron / iron board

Large equipped Panoramic Terrace (gas barbecue, table, #2 sun beds, LED "ambient" lights, wifi, plants and flowers)

Apartment "Trastevere Penthouse B "

Panoramic Roof Terrace

Recently renovated

Panoramic Roof Terrace
LCD TV in bedroom
Satellite
FREE internet (wifi and cable)
New A/C machine and independent heating.
Laundry machine
Hair dryer
Iron / iron board
CD player

Panoramic Terrace (equipped with table, gas barbecue, sun bed, recliner arm chair, LED " ambient" lights, internet wifi, plants and flowers)

ROMAN FORUM PALACE

Recently Renovated

FREE internet (wifi)

Plasma TV

Satellite
New A/C
Hair dryer
Orthopedic mattresses
Wood ceilings
"Cotto" flooring
Iron / iron board
Trastevere Penthouse "A" with Panoramic Roof Terrace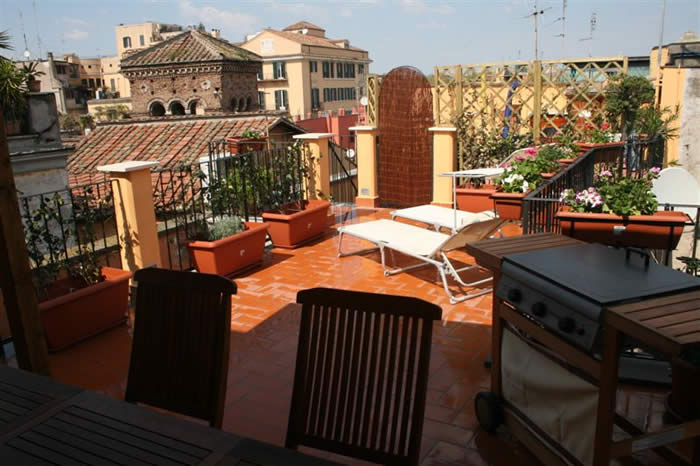 Roman Forum "A" with Private Terrace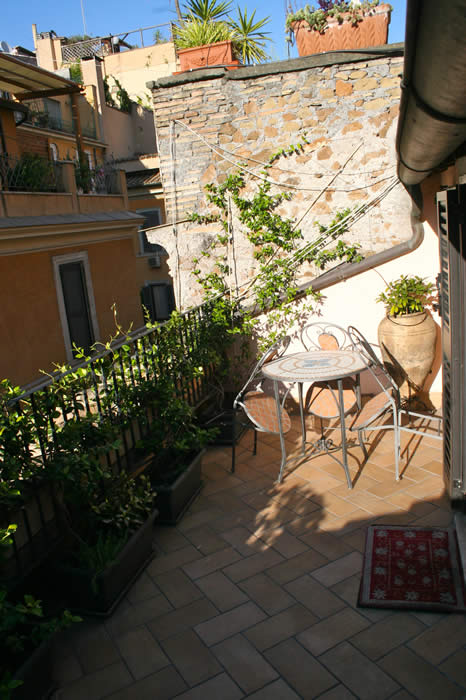 Contact Us